Hi friends,
This is the last call to join the the first cohort of our 60-day coding interview crash course, running from January 4th to February 28th. I'll be going through the course with everyone and will post biweekly updates. If you've already emailed us about joining, you're already accounted for! This will be the final general email about the crash course. All future updates will only be sent to crash course participants.
For those on the fence, here are some answers to frequently asked questions:
What is this? - When I surveyed existing students, the biggest issue wasn't understanding the material, it was making the time to go through the course and having support when needed. The goal is to work through this shortened curriculum together, and have access to others in the community that are working through the same lessons and problems. And since I'll be going through the course with everyone, my inbox (and the team's) is available for any questions you might have about the material. As it'll be top of mind, you'll get help much faster and from multiple sources.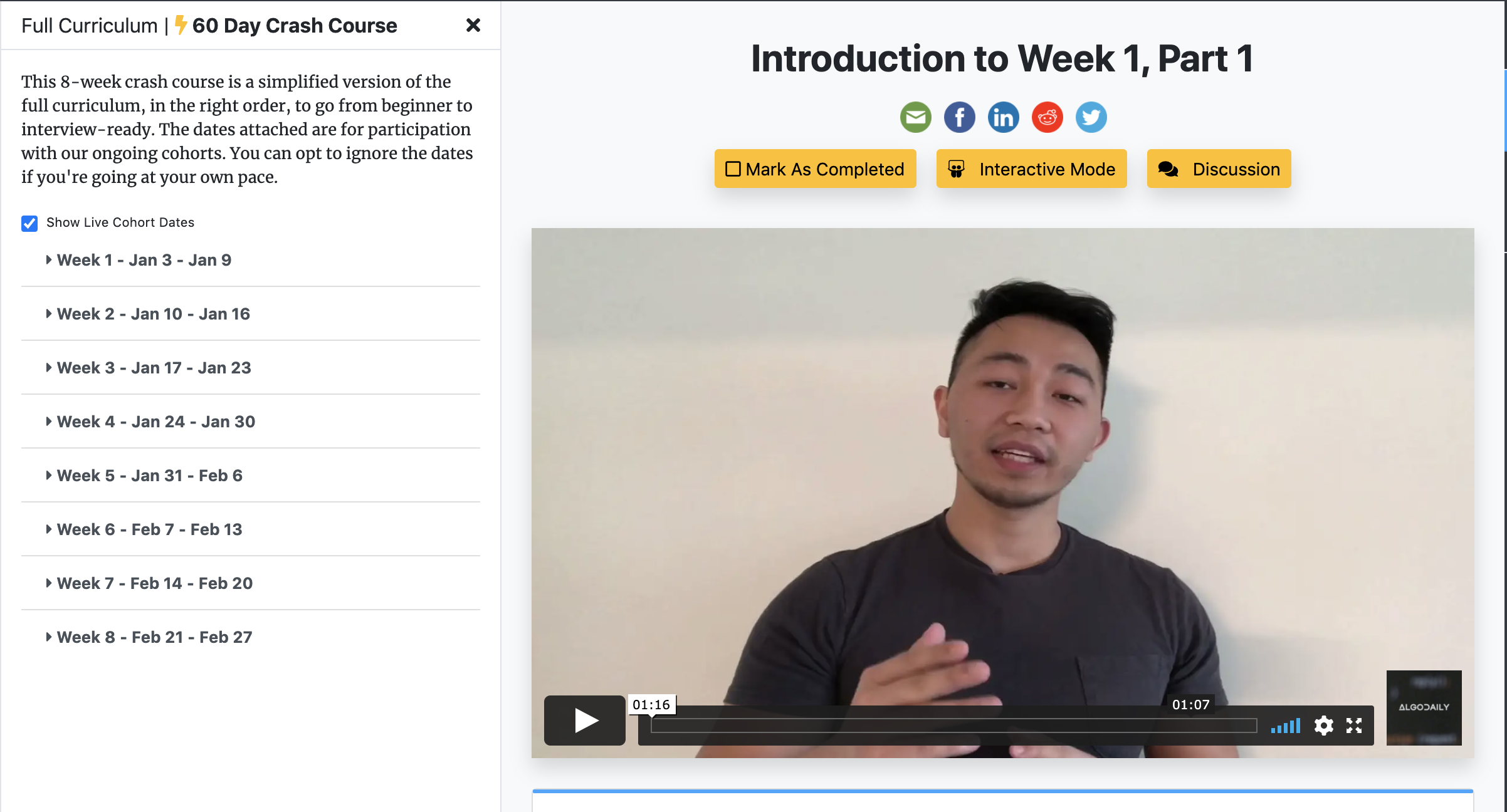 What's required of me? - Simply check your dashboard for each week, and do the work! If you have any questions or feedback about the material, post in the forum or email team@algodaily.com. After the 8 weeks, if you found it useful or land a job, please let us know and consider helping us with an email or video testimonial, or by sharing the site. Share your progress on social with hashtag #algodaily or #algodaily60!
How much time will this take? - Expect it to take about 10-20 hours a week, depending how much you choose to take on.
I don't have time to work through all of the tutorials this week. - No problem. It is A LOT of work to go through all the suggested material each week. As long as you're making strides every day, you can always catch up after the 8 weeks. We try to have one big "focus" for each week (e.g. "trees" or "linked lists"), so you get a chance to catch up each time.
What's in it for you, Jake? - Great question! The big focus of 2021 is not about pumping out more content, but ensuring student success. It is extremely helpful for me and the team to get feedback on what tutorials are confusing, where folks are getting stuck, if there are bugs on the platform, and how we can help you land a better job. Shout out to members Ray, Dmitry, Jacob, and bsanneh for providing useful feedback in just the last few days.
How much will this cost? - It's tacked on as part of our premium membership. If you're already a premium member, just email us to get updates. We think this is extremely fair given that similar cohort based courses are typically in the $1000 - $7000 range. Can't afford the course? I still want to help! Subscribe to the youtube channel for free coding video tutorials.
OK, let's do it! How do I get started? - Reply back to this email for updates as we work through the next 8 weeks. If you've already expressed interest, you're on our list. Feel free to share this on social with hashtag #algodaily or #algodaily60!
We'll send you 100+ of the most common coding interview questions, once a day with visual explanations. Join over 50,000+ users who are doubling their salaries in 30 minutes a day.